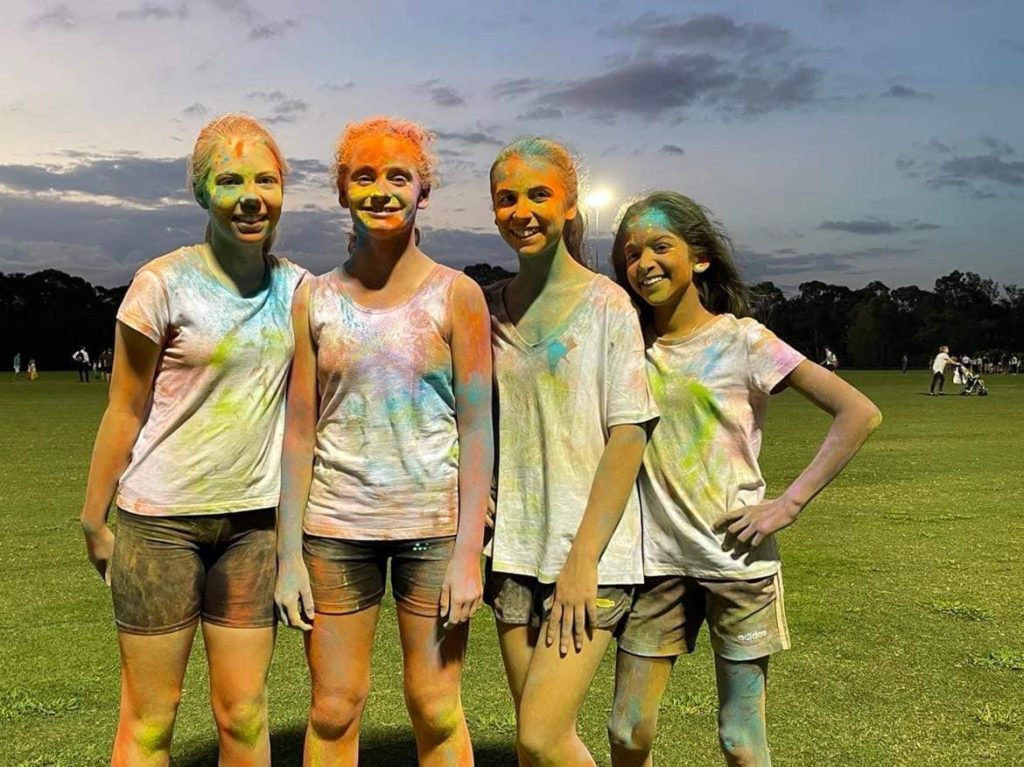 Rouse Hills Little Athletic Centre don't do things by half. The club regularly produces top young athletes who compete at regional and NSW State Championships. 
The club committee recently held their first fundraiser in support of our brave men and women at the Rouse Hill Rural Fire Service, matching the money raised on the day.
The fundraiser was held as a part of their annual presentation at the Hills Centenary Park, where the club runs its very popular Little Athletics program every Friday between September and March through summer.
Club president Bob Gribbin said they decided on a colour run for the fundraiser, and he was one of several officials who ended up with more colours on their faces and clothes than a rainbow.
"It was a wonderful event. We threw a lot of coloured chalk in the air and the little athletes run through changing colour as they progressed," Bob said.
"We had a large turnout of more than 350 children with parents to raise the money for the Rouse Hill RFS who do such a great job. We have been very encouraged by the support shown by our members and it won't be the last fundraiser Rouse Hill Rams Little Athletics will host."
Bob said the event raised $500 and the club doubled it before handing over the cheque to the Rouse Hill RFS recently.
Rams Little Athletics hold their events on Fridays from 6.30-9pm September through March with the youngsters competing in different events, including running, long jump, high jump, discus, shot put and javelin.
"I started with the club around 10 years ago when my son James began athletics," Bob said. Incidentally James Gribbin still holds the club's Boys U15 400m record 59.70 seconds set in October 2013.
At the 2022 NSW LA Championships at Homebush in March, Alexander Benaforte brought home Ram's only gold medal in the boys U12 long jump with a huge leap of 4.77m.
His team-mate Ethan Odelle proved his versatility with four medals in the U11-12 age group: silver in the multi-class discus and bronze medals in shot put, 200m multi-class and 800m multi-class. In all, 22 athletes represented Rams Little Athletics at the Homebush event.
The generous donation capped a mixed season for Rams Little Athletics with several members being affected by the recent floods, an interrupted schedule, and cancelled events.
Many athletes missed the 2021 zone, region, and state championships due to Covid-19.
"While we had a somewhat difficult year, we wanted to end on a high by helping another local not-for-profit and we know the Rouse Hill RFS have been working hard helping out locals in the floods," Bob said. Details: http://www.ramsathletics.com.au/